Congratulations to the following students for being nominated to attend the National Youth Leadership Forum (Explore STEM): Samiya Ahmed, Angel Dhungel, Lily Ann Gallegos, Josiah Hockaday, Victoria Nungaray, Tidus Passarelli, Rohina Rai, GJ Samuelu, Isabella Solorio, and Janice Sor. The forum provides students with a broad range of academic and career insights through interactive simulations, workshops, and speaking events with STEM experts.
Mrs. Roche, Rm 126, GT/Talent Pool National Youth Leadership Forum (STEM) Student Nominations
---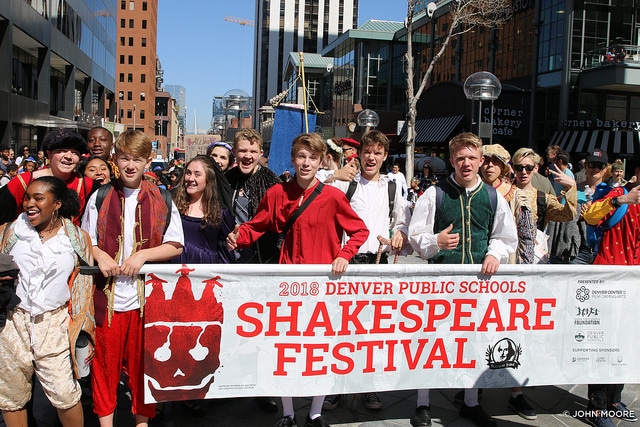 5th Grade GT/Talent Pool students will be performing in the DPS Shakespeare Festival on April 26th! It's just so exciting! More detailed information will be given in the near future.
Please save the date for the 35th Annual
DPS Shakespeare Festival!
Who: 5th GT/Talent Pool Students
When: Friday, April 26th, 2019
Where: Downtown Denver
(Denver Center for Performing Arts)
*More detailed information will be given in the near future.  
As always, thank you for your support!
Kind regards,
Mrs. Roche
GT/Talent Pool/STL
Marrama Elementary
---

Denver Public Schools is proud to bring Destination Imagination to Marrama Elementary! Destination Imagination is preparing Colorado's kids to be the innovators of the future by combining the arts, sciences, and technology with creativity, teamwork, and problem solving. In order to be successful and offer this opportunity to our students, we also need adult volunteers as well. If your student is interested in competing this year, please consider co-managing a team and contact Mrs. Roche at Andrhea_Collins-Erikson@dpsk12.org. Thank you so much for your support!
Overview: The GT program at Marrama serves those students formally identified as well as those students that show potential, but lack enough indicators for formal identification. They may be advanced in one subject but not all academic areas. Students are grouped into cluster classrooms from 3rd-5th grades. GT instruction is delivered through pull out classes for 1st through 5th grades. Ability grouping is used as well as differentiating content.
Identification: Three different indicators must meet or exceed a specified level or score in order for the student to be identified. Denver Public School District begins the process with the NNAT test in 2nd grade and continues with different assessments annually. Teachers and parents complete questionnaires annually. Parents may choose to have their child tested on the COGAT test in November. Schools may choose to informally service students with proven academic success earlier than 3rd grade, which Marrama does.
Curriculum: Instructional practice in the GT program centers around content integration and 21st century skills. Instruction compliments DPS curriculum and expands concepts to challenge GT students to reach their full potential. The curriculum is standards based and inquiry driven. Each of the five grades received instruction on a weekly basis.
Extra Curricular Opportunities: 5th grade GT students can audition for a Shakespeare play to be performed at The DPS Shakespeare Festival in May. The school choir, band, strings, and student council are also current programs offered to outstanding students.
Students Served: For the 2017-2018 school year, students will benefit from the enriched reading, writing, math, and computer instruction. The content areas taught depend upon the grade levels of the students as well as the amount of class time available. These students range from 1st grade through 5th grade. T
Information: For more information regarding the GT program at Marrama, please contact Ms. Roche at 720-424-5820.